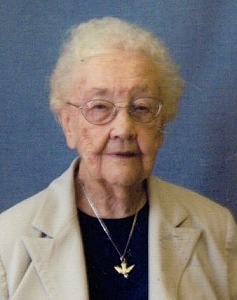 In the early hours of June 12th, Sister LILLIAN BELCHER responded peacefully to her Lord's last call to her, saying her last FIAT and entering life eternal.
Lillian was born on October 13, 1920 in Pittsfield, MA. She professed her first vows as a Daughter of the Holy Spirit in August of 1949 and soon thereafter began  her long and successful career as educator at various levels in Vermont, Massachusetts, Connecticut and California. Sister was gifted with a gentle and easy to approach personality which attracted young and old alike. She was a good organizer and planner and had a way of putting others first in all her undertaken projects.
After retiring from the classroom, Sister eventually moved to the Provincial House in Putnam in 2003 but remained involved to a large extent with committee groups and planning circles. She was always ready to offer her well-based opinion on topics that related to religious life and the joys of community living and growth.
Sr. Lillian celebrated 70 years of religious life on June 2nd.
Services for Sister will be held on Monday, June 17 from 9:00 a.m. with a prayer service at 10:00 and the Mass will be celebrated at 11:00 at St. Joseph Church, 99 Jackson Street in Willimantic, CT. Reception will follow the mass in the church hall and burial will be in Putnam at St. Mary Cemetery on Providence Street at 2:30 pm.
Memorial gifts may be offered for the DHS Retirement Fund and mailed to Office of Development at PO Box 497 Putnam, CT 06260.
Together we sing the Lord's praises for the gift of Sr. Lillian's life. Amen…Alleluia!