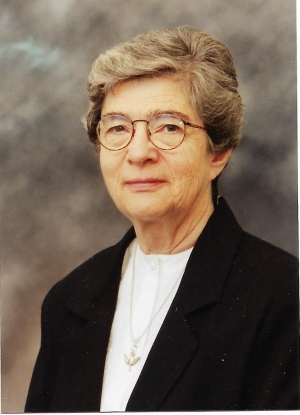 Sister Constance Perron, DHS
July 14, 1930 – December 17, 2020
Sr. Constance (Connie) Perron, DHS, 90, a member of the Daughters of the Holy Spirit entered life eternal on Thursday December 17, 2020 at St. Joseph Living Center in Windham, CT.
Born Constance Mary Perron  in Spencer, MA, she was the daughter of Ludovic and Mary Alice (Letendre) Perron. Connie entered religious life in 1949 and made her religious profession on August 23, 1950 at the Motherhouse in St. Brieuc, France taking the religious name of  Sr. Roger du Divin Coeur.
Sr. Connie obtained her B.A. from Diocesan Sisters College and her M.S. in Education from Fordham University and began her ministry as an elementary school teacher and principal in Moosup, Fairfield, Hartford and Bridgeport. In 1964 she was appointed Director of Postulants for 3 years then returned to education until 1977 when she enrolled in the Clinical Pastoral Education (CPE) program at Fatima Hospital in Providence, RI. She then ministered as a chaplain or director of pastoral care in hospitals or nursing homes until 1983. At that time, she was named Director of Formation until 1988 when she became a Councilor on the Provincial Team then elected as a Councilor on the General Council for 3 years. Returning to the US, she continued in pastoral ministry until she was admitted to the Holy Spirit Health Care Center in 2013. She joined the community at St Joseph Living Center in 2016.
Sr. Connie is survived by the Daughters of the Holy Spirit spiritual family – her Sisters in community, the Consecrated Seculars and the Associates. She is also survived by her brother Roger Perron and several nieces, grand-nieces and grand-nephews.
Calling hours will be on Wednesday December 23, 2020 from 9:45 – 11:00 AM at St. Joseph Church, 99 Jackson St., Willimantic, CT with a prayer service at 10:15 AM. A Mass of Christian burial will be held at 11:00 AM followed by burial in St. Mary Cemetery in Putnam at 1:30 PM. Social distancing guidelines will be followed including the requirement of a mask.
In lieu of flowers donations may be made to DHS Retirement Fund, P.O. Box 497, Putnam, CT 06260. The Gilman Funeral Home, 104 Church St., Putnam, Ct is in charge of arrangements.