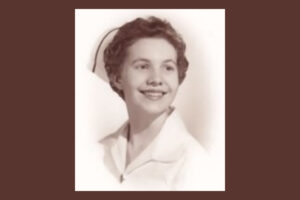 Patricia Booth Calzadillas, Associate member of the Daughters of the Holy Spirit in the USA, entered life eternal on January 18th 2021 in Merced, California where she had made her home for the last half century.
Pat was a native of Chicago, Illinois where she greeted the world on November 29th, 1935. Pat, one of five children of Edward and Marie Booth, moved to St. Louis, Missouri and attended local Catholic elementary and high schools.  It was also there that she met her husband Lt. Joseph Calzadillas with whom she lived and traveled and raised a family for 63 years.
Patricia dedicated her professional career to nursing and everyone who ever came in contact with her readily describes her as truly compassionate, loving, caring and a servant of God and of his people.
While in Merced, California Pat grew to know the Daughters of the Holy Spirit and felt that their charism was a super match for her ideals and goals.  She made her covenant as an Associate member on April 22, 1995.  Pat's dedication was  publicly acknowledged by various groups over the years.  She appreciated the honors conferred upon her and always attributed her gifts and capabilities to the work of the Spirit in her and through her.  She firmly believed that we are all children of God and all deserve to be treated equitably so that our good God would be recognized and honored.
Pat is survived by her husband Joe, their 6 children and several grand and great grand children.  Her smile and ongoing willingness to lend a helping hand will be sorely missed as she continues to bless one and all from her new home with the Lord and God she served so well through others.
Rest in peace, dear Pat, and know that we dearly loved and appreciated you.