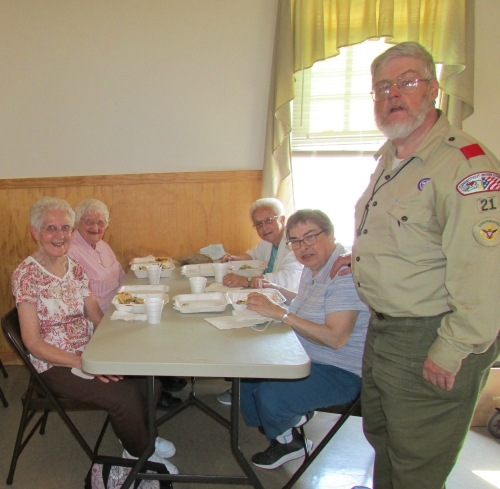 The latest project for Scout Troop 21 of Putnam, CT was to work out the logistics of getting troop members off to summer Scout Camp this year. There is a price tag of $425.00 per participant, and it was the goal of Scoutmaster John Ryan to fundraise the entrance admission.
Mr. Ryan, who is currently the Grand Knight for Cargill Council 64 of the Knights of Columbus, got his men involved in this activity as they joined in preparing a mouth-watering chicken parmesan dinner with all the trimmings on Saturday, June 5th. Dinner tickets were sold by the scouts as well, and donations were graciously accepted in lieu of or in addition to a meal. The Grand Knight and Scout Master honored the K of C close connection to the Daughters of the Holy Spirit and made sure to invite the Sisters in the area to partake of  this Italian delight. Meals were eat in or take out. As the photo reveals the 4 Sisters in the Moosup Community chose to eat on site and to pose for a photo with Mr Ryan.
The Daughters are once again grateful to the Knights for having been a part of this meaningful activity that assured the youngsters in Troop 21 a great and education-filled time at Camp this July.