It was most appropriate and fitting that the Daughters of the Holy Spirit celebrate the jubilees of their apostolic religious, consecrated seculars and associates on Pentecost Sunday, the official feast of the Congregation.
The celebration was a weekend long activity that began on Friday with a retreat day guided by Kathy Irr. Saturday evening found the group gathered at the Administrative Center to enjoy a catered dinner and then Sunday featured the Jubilee Liturgy at St. Joseph Church in Willimantic. Mass was followed by a reception for the jubilarians and their guests in the church basement.
The day was a perfect 10 weather-wise which made traveling to and from the ceremony a delight.
The theme for the day was "ALIVE IN THE SPIRIT". The main celebrant of the liturgy was Rev. Laurence LaPointe and the homilist was Rev. Ed Dempsey. Cantor  Patty Johnson was accompanied by organist Tom Gouin. Readings were done by the jubilarians who also presented specially chosen offertory gifts and prayers. The celebratory mass concluded with the singing of the traditional DHS profession hymn "O Jour le Plus Beau de Ma Vie" which was followed by enthusiastic and warm applause by the large crowd in attendance.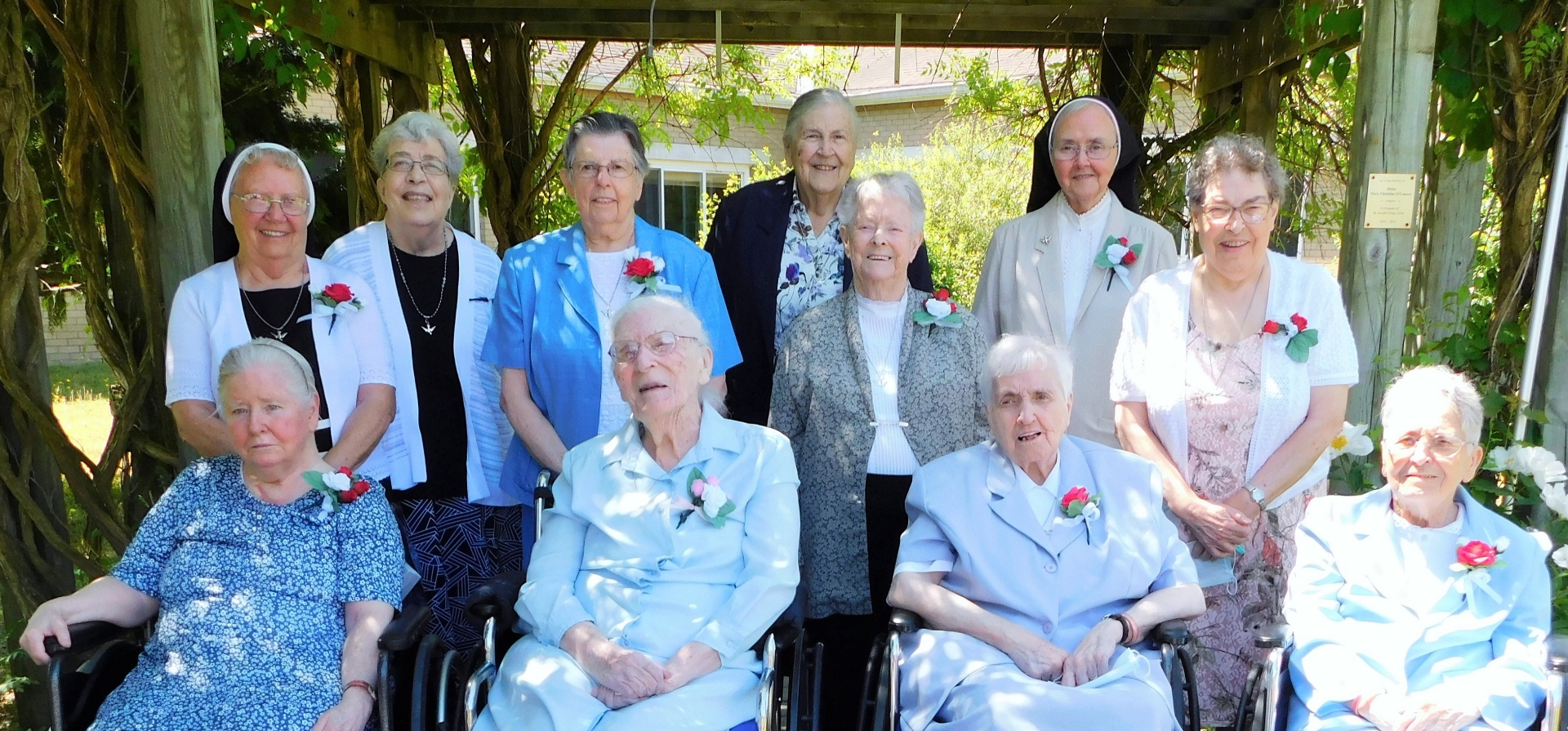 Several jubilarians were unable to attend due to Covid or other restrictions. The photo features 1st row l to r: Sisters Diane Gillis (60), Claire Roland Poulin (75), Cécile LeBeau (70), Gisèle Brouillard (70).  2nd row l-r: Michael Henry Moulin (65), Paula Jean Despathy, M. Jeannette Bérubé (65), Patricia Rickis (60), Patricia Blais (60), Madeleine Grégoire (60), Caroline Devinez (60).
Absent: Eleanor Baldpni, Consecrated Secular (65), Associates 25 years: Donna Bertholf, Patty Gianatasio, Christine Ortaliz, Carol Silva, Raylene Wittwer.
Thank you one and all for your love and service to so many over the years. Congratulations and all best blessings!