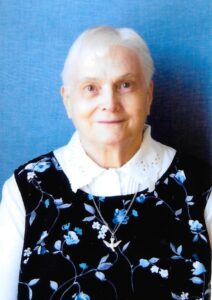 Sister Mary Lou Smith, DHS, entered eternal life on Wednesday, July 13, 2022 at St. Joseph Living Center in Windham, CT.  Mary Lou was 90 years old.
Mary Lou was born in North Providence, RI on February 5, 1932 and was the 14th of 15 children in her family.
Mary Lou entered the Congregation of the Daughters of the Holy Spirit in 1950 and made her first profession in 1953 at the Holy Spirit Provincial House.
The young religious attended Diocesan Sisters' College housed on the Annhurst College campus in South Woodstock, Ct and graduated with a BA degree in education that she immediately put to use by entering the scene of classroom teaching.  During her teaching career she served Catholic Schools in Connecticut, Massachusetts, Rhode Island and Alabana.  She also served as principal in several schools  .
Seeking to broaden her perspective and serve in a different setting, Siser was certified as a  Nursing Assistant and worked at Villa St. Joseph, a nursing facility for the DHS in Putnam, at the Holy Spirit Provincial House and at Lifetime Medical in Pawtucket, RI. Mary Lou retired in 1999 and immediately offered her services in  All Saints Psrish in Anniston, Alabama where she ministered to families that were economically deprived.  She endeared herself to one and all  before returning to Putnam to officially retire in 2003.
Mary Lou remained an active member of the Provincial House community until her move to St. Joseph Living Center in 2017.
Funeral services for Sister will be held at St. Joseph Church  99 Jackson Street in Willimantic on Monday, July 18 at 11:00 a.m.  The mass will  be preceded by a wake service at 10:15.  Burial will be at St Mary Cmetery on Providence Street in Putnam at 2:00 p.m..
Sr. Mary Lou, we remember your dedication, your determination and the love you so willingly shared.  May you now intercede for us and for all who care for the needy and the vulnerable as you enjoy the eternal reward that is now yours.
Memorial gifts may be made to the DHS Retirement Fund at PO Box 497 Putnam, CT 0626