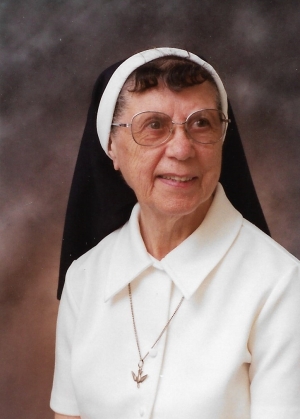 Sr. Rose Mary Iannucci, DHS
June 6, 1917 – September 29, 2019
Sr. Rose Mary Iannucci, 102, went home to her Lord on Sunday September 29, 2019 at St Joseph Living Center in Windham, CT.
Rosemary was born on June 6, 1917 in Waterbury, CT, the daughter of the late Giovanni (John) and Antoinette Conte Iannucci. The 21 year old entered the Congregation in 1938 and made her first profession at the Motherhouse in St. Brieuc, France on March 27, 1940 taking the religious name of Sr. Jean Antoine. Her first assignment was at Le Legué, France, but as soon as the United States declared war on Germany, she and 23 other Daughters of the Holy Spirit were arrested. Sr. Rose Mary was held in the detention camp at Vittel for more than two years during which time she and the other American Sisters taught the children in the camp which had been originally created to intern nationals of enemy and neutral countries whom Germany wanted to exchange for their own nationals held in enemy camps.
So it was that the 22 DHS in Vittel were released as exchange prisoners in 1944. Sr. Rose Mary was the last survivor from that group.
Once back in the U. S., she taught in elementary schools in CT, MA and VT and CA where she also became certified for Pastoral care.  Rose Mary also played an important role in introducing the DHS Associate program to the west coast.
Upon retiring from active ministry in 1998, she resided in Rhode Island at St. Clare Community until she moved to the Provincial House.  She was one of the first Sisters to begin the new DHS community at St. Joseph Living CT.
Sister enjoyed music, company and dancing. And so we pray as she enters life eternal that she eternally enjoy the last dance to which her Lord has called her as she encourages us to continue to choose to dance.
Sister lies at rest in St. Mary Cemetery in Putnam, CT.
Memorial gifts may be made to the DHS Retirement Fund and sent to PO Box 497 Putnam, CT 06260.