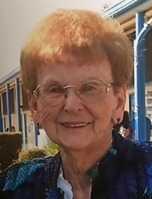 After gracing our world and families with her presence for 101 years, ALTA MARIE JONES, Associate member of the Daughters of the Holy Spirit, followed the Spirit's lead into life eternal on Monday, February 10th in Madera, California where she had resided for some 90 years.
Alta was born to Jacob and Barbara May in Campbell, Nebraska on July 13, 1919.  The family moved to and settled in Madera County when Alta was a young adolescent.
The love of her life, Lloyd Jones, went to his eternal reward after 52 years of espoused life. Their son Richard survives his mother.
Alta was extremely active her entire life and worked for such groups as Dairyland Elementary, dedicated herself to parish activities in Chowchilla and was particularly proud of her service as a member of the Altar Society.
Ms. Jones came to know the Daughters of the Holy Spirit early on and, impressed by their attitude of service to others and their charism of giving, she made her Covenant as an Associate member in 1999 and participated actively with the Associate Group on the west coast. She also remained a faithful donor to the DHS Annual fund initiatives. Her many and varied interests often made Alta the center of conversations and discussions at Associate assemblies and gatherings over the years.
Alta, your attractive and contagious smile will truly be missed, but we know that we now have another advocate at the Lord's side to assist us as we continue to forge our path into our DHS future
Memorial donations in Alta's memory may be sent to the DHS Development Office PO Box 497 Putnam, CT 06260. Your gifts will be used to assist our Sisters in retirement.