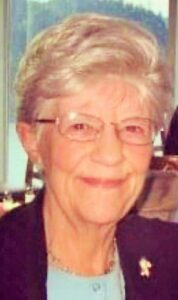 Beatrice Theroux, SBDHS (Theresa Emile)
October 21, 1933 – January 13, 2021
It was in the late afternoon of Wednesday, January 13 that Beatrice Theroux transitioned into eternal life after many years of defying the challenges of ill health.
Beatrice graced the lives of Emile and Exilda (Frechette) Theroux from the day of her birth in Danielson, CT. The young Beatrice loved people and studies. She attended Catholic elementary school in Wauregan and moved up the road to Putnam for her high school years at the former Putnam Catholic Academy where she got to know the Daughters of the Holy Spirit up close and personal. Upon her graduation from high school Bea entered the Congregation of the DHS and professed her first vows on August 18, 1953.  Thus began her professional career as educator, a career that took her to classrooms in Connecticut, California and Massachusetts. Her undergrad and graduate degrees from Diocesan Sisters College and Boston College made her a prime candidate for both teaching and administrative positions.
After serving as Superintendent of Schools in the Diocese of Norwich, CT, Beatrice responded to the needs of the Province and ministered as assistant to the Provincial and then was appointed Provincial Leader from 1983-89. She then moved into the position of Auditor/Assessor for the Norwich Diocesan Tribunal and remained in that role until her retirement in 2011.
In retirement Bea was able to free float and maintain connections with former students, with family members in need, with old friends and former colleagues.  She also had more time to dedicate to the Secular Branch of the DHS to which she had transitioned. Circumstances and her rapidly declining health led Beatrice to move to St. Joseph Living Center in Windham, CT where the Daughters have a community in residence. While there she quickly got to know many residents, their families and , of course, staff. One of Beatrice's favorite things,short of going to the casino, was to entertain on her organ and watch the joy of music on the faces of her audience.
Beatrice will be remembered for her gentle manner and soft tones that accompanied her attractive and friend winning smile, for her kind words and gestures and her openness  and quick response to the needs of others. For Beatrice, life was all about relationships and people.
Beatrice, continue to smile upon us as you sing and dance in your God's everlasting presence.
There are no calling hours and memorial services will be announced at a later date.