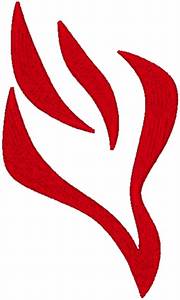 While the feast of Pentecost is considered the "birthday" of the Church, it has been celebrated by the Daughters of the Holy Spirit as the official feast day of the Congregation since its origins in 1706.
Within the mystery of the Trinity the SPIRIT is referred to as the LOVE between the Father and the Son, and her designated task is to enter the hearts of believers and to fill them with new energy, light, life and love to reflect the inner workings of God the Creator, God the Redeemer and God the Sanctifier.
We invite you to celebrate the Spirit whose time has come and whose work we are called to do and to continue.  We invite you to join us in opening ourselves to the myriad possibilities that this Spirit ignites within us and to allow her multiple gifts and fruits to be cultivated and grow in our lives and in the lives of those with whom we interact. And so we give thanks and pray:
Dear God, Father Son and Spirit, we
Thank you
Bless you
Honor you
Seek you
Please continue to
Gift us
Shape us
Energize us
Enlighten us
Strengthen us
Utilize us
Sanctify us
for your glory and the good of all Creation.
AMEN!