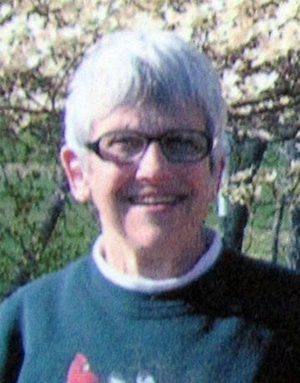 DHS Associate Margaret C. Burke entered eternal life on September 27, 2022.
Margaret was born in Colchester, Vermont on December 15, 1940.  She was the daughter of Theodore and Lillian Cook. Burke was educated in the Colchester area and at St. Louis Convent in Winooski. Soon after graduating high school she accepted employment with a jeweler in Burlington for whom she worked for many years.
Margaret loved people and animals, and she made it a point to go out of her way to be of service. She was dedicated to her church community, and, having known the Daughters of the Holy Spirit for a prolonged period of time, became a covenanted member of the Associate Branch of the Congregation in 1995.
Margaret was by nature a very generous person and was always ready and willing to help others in whatever way possible. She enjoyed going out to find yard sales and samples of home-baked goods. Margaret also enjoyed engaging in lively discussions and never hesitated to share her very strong opinions on myriads of topics. In many ways Margaret marched to her own drummer while trying to assure the welfare of all those around her. Her love of animals of all kinds was particularly striking. Burke loved nature and her last wish is that her ashes be scattered over predesignated areas in her beloved Vermont.
Margaret, we thank you for your years as an Associate and we ask you to watch over us from your new home as you inspire us to learn from your generous and kind spirit.