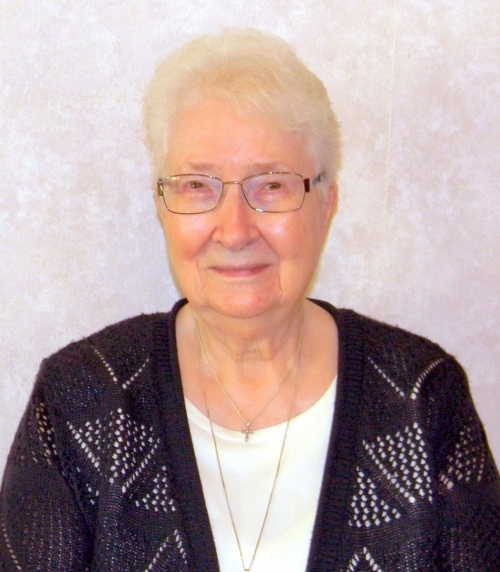 In the wee hours of November 23rd, Sister Anita Paul placed her soul in the awaiting hands of her Lord for the last time.
Anita was 92 years of age and entered the world on December 31st, 1930 in Washington, Vermont. She was one of seven children born to Felix and Antoinette Paul.
At 19 years of age she entered the Congregation of the Daughters of the Holy Spirit and pronounced her first vows at the Motherhouse of the DHS in Brittany, France in 1950.
After her initial formation, Sister returned to the USA and attended Diocesan Sisters' College on the campus of the former Annhurst College where she earned her BA degree in education. Anita would continue her studies at St. Michael's College in Winooski, VT and came away with an MA in religious education.
Sr. Jeanne spent several years in the elementary classroom in Catholic Parochial schools in Chicopee and Fitchburg, MA. In 1967 she was named Directress of Novices in St. Hubert, Canada where she remained until 1973. At that time she returned to the USA and ministered as principal in Tupper Lake, NY and Waterbury CT. These administrative posts served as a springboard for Sister's work with migrants in Maryland and Virginia whom she served for 13 years.
Sr. Anita's gifts as administrator were equally recognized by  Province leadership and she was appointed to serve as Provincial Councilor, Directress of Ongoing Education Programs for the US Province, and Coordinator of the Provincial House Community  and of the DHS Health Care Center in Putnam. It was from here that Anita moved to the Reitrement Home, The Card Home, in Willimantic, CT.  Last spring Sister opted to transfer to St. Joseph Living Center in Windham where she joined the already established DHS Community.
Sister Anita will be waked on Friday, December 2nd starting at 10:00 a.m. at St. Joseph Church 99 Jackson St. in Willimantic, CT.  A prayer service will be conducted at 10:15 and the Mass of Christian Burial will be celebrated at 11:00 a.m. Burial will be at St. Mary of the Visitation Cemetery on Providence Street in Putnam at 2:30 p.m.
Memorial donations may be made to the DHS Retirement Fund and mailed to DHS Development Office PO Box 147 Putnam, CT 06260.
We remember you, Sr. Anita, and sing God's praises for the gift you were to all of us.