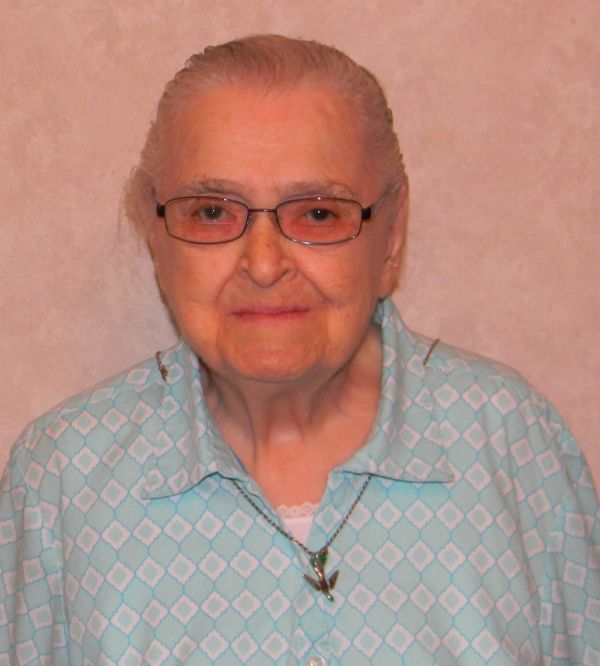 Sr. Clémence Croteau, DHS
August 3, 1927 – February 1, 2023
Sr. Clémence Croteau, 95, a member of the Daughters of the Holy Spirit, died on February 1, 2023 at St. Joseph Living Center in Windham, CT.
Born in Fitchburg, MA on August 3, 1927, the daughter of Clément and Malvina (LeClerc) Croteau, Clémence Thérèse was the 16th of 17 children. She entered religious life in 1945 at Holy Spirit Provincial House in Putnam, CT and made her religious profession on August 16, 1949. She was then known as Sr. Marie Clément.
Her first assignment in 1949 was as sacristan at Assumption Parish in Chicopee, MA and from 1950-1976 she was dietician in Wauregan and Bridgeport, CT, Annhurst College in Woodstock, CT, Uncasville, CT, Burlington, VT and the Provincial House in Putnam. She especially enjoyed decorating cakes and many jubilarians were amazed at the beautifully designed celebratory cakes that graced their head table. In 1976 she became a Nurses' Assistant at Fairlawn Nursing Home in Leominster, MA. Sr. Clémence was certified as a Nursing Assistant in 1993 and then worked in private nursing and as a homemaker until retiring in 1999. She moved to Holy Spirit Provincial House in 2000 and provided transportation for sisters to medical appointments and mini shopping trips. In 2018 Sr. Clémence moved to St. Joseph Living Center where she was an active member of the community, never missing an opportunity to participate in fun and social activities. Sister was an avid knitter and loved to give away the many items she knitted to families of workers, friends and to homeless shelters. Sister also had a beautiful singing voice and enjoyed singing well known French hymns and songs from years gone by. She also composed her own songs to Mary and to her Jesus.
Clémence, we are grateful that we were able to share your gifts, love and life. Your personality truly reflected the tenderness and compassion of our loving God.
Calling hours will be on Wednesday February 8, 2023 at 10:00 AM at Corpus Christi Parish / St. Joseph Church, 99 Jackson St., Willimantic, CT with a prayer service at 10:15 AM. A Mass of Christian burial will be held at 11:00 AM followed by burial in St. Mary Cemetery in Putnam at 2:00 PM.
Memorial gifts may be sent to DHS Development Office PO Box 497 Putnam, CT 06260.