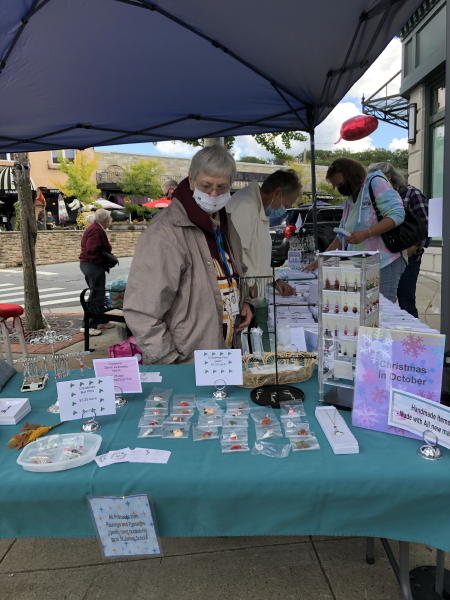 Sister Lesley Despathy, DHS describes herself as "a nun who makes simple jewelry." She volunteers in the bookstore "Pourings & Passages" in Danielson, CT, a ministry that helps support St. James Elementary School in that town.
A retired teacher and principal, Sister's jewelry making gift was cultivated aafter she received  requests for some specilaty items.  She not only sells her creations for a minimal amount at the bookstore but also at local craft fairs. All proceeds are donated to St. James School via Pourings and Passages. This year, because of the pandemic, fairs have been limited so she probably had her only craft sale of the year on Saturday, Oct 3rd at the Pop Up Putnam, CT event. She was one of thirteen vendors spread out throughout the downtown area.
So, if hand made pins, necklaces, chains, rosary beads, etc., are of interest to you, you may contact Sister Lesley to chat about available items; you may even convince her to tailor make an item just for you and your gift giving for the upcoming holidays. Sr. Lesley may be reached at: lesleydhs@yahoo.com or by calling: 860-412-9386.
Sister views her art as a ministry through which she can assist and share in the work of bringing the Gospel message to life by educating the young. Your purchase will help her to carry out that ministry more effectively.