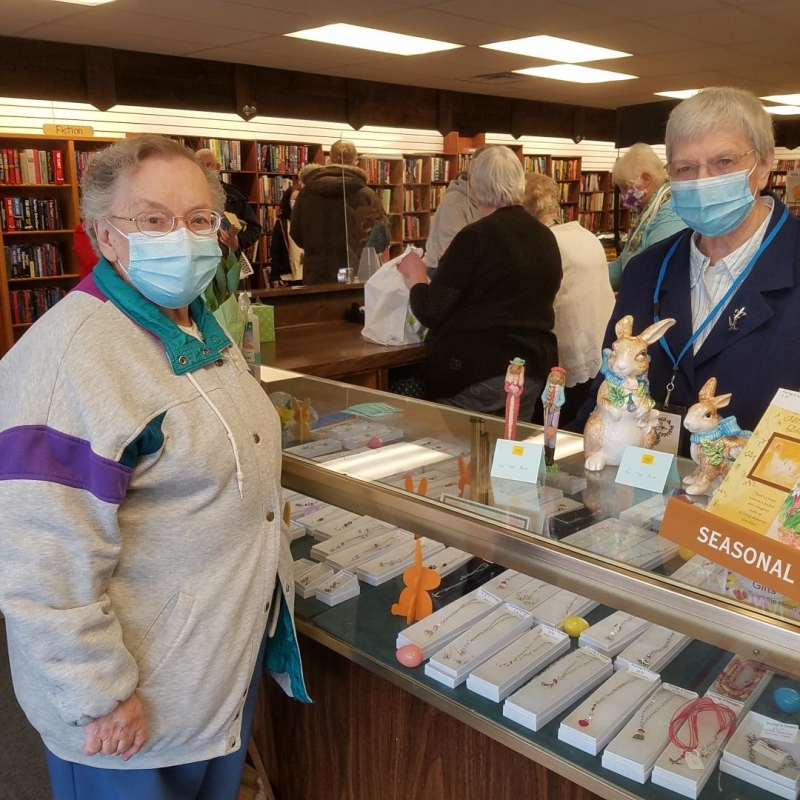 Thursday, April 1st, was not only Holy Thursday this year, but it also marked the grand re-opening of Pourings and Passages, a landmark bookstore in Danielson, CT.
The bookstore 's manager and creator, Jimmy Weigel, was fortunate enough to be able to lease the space recently vacated by the former Trinket Shop on Main Street in Danielson. This ideal location is handicapped accessible and affords the visitor 8,000 square feet divided up into 5 rooms with books, handmade articles, jewelry, cd's, vinyl and even a "man cave" with materials on the arts of electricity, plumbing, mechanics, etc. There are also reading areas and refreshments available.
Sr. Lesley Despathy, DHS, has been involved in the bookstore since its inception some 5 1/2 yrs ago.  Her involvement has increased steadily and she absolutely loves and enjoys this ministry in retirement. Sister, a lifelong teacher and principal, sees her work at the bookstore as a way of continuing her education ministry. All the net profits from the sales at the store go to the endowment fund at St. James School in Danielson to help defray tuition costs for students in grades Pre K through 8.
Sister can be found manning the jewelry counter at the store. She makes most of the jewelry that is sold and tries to offer variety and popular styles. She is forever researching fads and particular likes among various age groups. Her selections run from simple key chains to more elaborate bracelets and necklaces made from semi-precious stones. Sister is always happy to welcome guests/customers into the store, to give them a grand tour and to explain her art of designing and creating fine jewelry. While Sr. Despathy had never thought of herself as a jewelry maker, this career in retirement lights up her life and gives her motivation on a daily basis. So, when planning your next trip to northeastern CT, be sure to include a stop at Sr. Lesley's home away from home. Bring plenty of bags because the bargain prices cannot be beat. Treat yourself and your family to a leisurely visit to Pourings and Passages, meet Sr. Lesley and help support Catholic elementary school education at one and the same time.
The photos show Sr. Lesley at her jewelry display case and explaining the set up and process to visitor Sr. Anne Cacciapuoti.
For more information you may contact Sister directly at lesleydhs@yahoo.com or 860-412-9386.