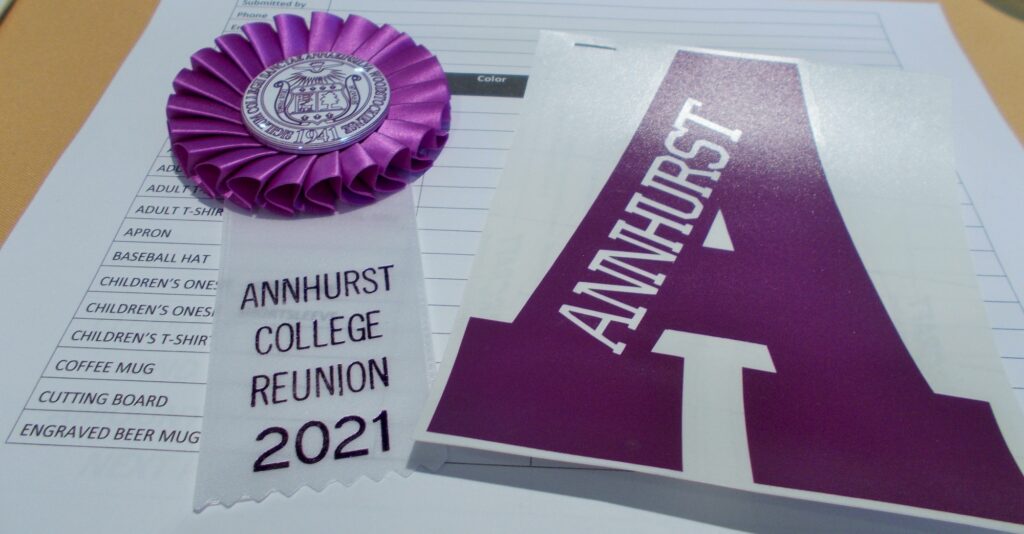 The Loos Center for the Arts at Woodstock Academy was the site of the Annhurst College Alumni Reunion on Saturday, September 18th.  It was a homecoming of sorts for the 80 or so grads who gathered on the site of their alma mater to reminisce, have fun and spend a late summer day giving thanks for the blessing that Annhurst was to all of them and so many others.
Alumni Association Chariwoman, Mary LaChance, greeted everyone with smiles, token souvenirs and masks in school color of purple. Coffee and a multitude of brunch treats summoned one and all to make their way into the cultural center lobby adorned with Annhurst memorabilia, photos of previous reunions and, of course, sale item displays.
1:00 P.M.  marked dinner time with grace being led by former philosophy professor Marguerite Janelle.
The festive meal of turkey and salmon and celebratory cake was followed by a brief business meeting, the traditional basket raffle and the annual prayer for deceased members of the Annhurst College community. Mary also reminded the alums that a visit to the auditorium would show seats purchased by the Association in memory of Sr. Helen Bonin, former Annhurst President, and in honor of the Alumni Association, a tradition the group chose to continue.
Visits to campus housing sites, formerly called dormitories, were offered and many alumni began another part of their journey down memory lane.
Thanks for all who made this day possible and to those whose attendance made this day so special in particular the oldest alumna present EDNA FUSCO CASOLINI from the class of 1947. Long live the alumni group and the loyal spirit of Annhurst College!
More information about the annual reunion may be obtained by contacting Mary LaChance at (508)943-4148 or our DHS Development Office at (860)928-0891 ext. 148.