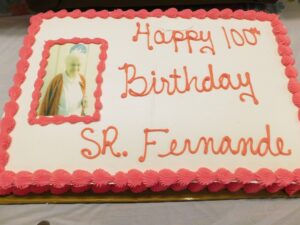 The last day of winter could not have been any nicer as friends and family traveled to St. Joseph's Church Hall in Willimantic to celebrate the 100th birthday of Sr. Fernande Laliberté.
A round of applause greeted our centenarian as she entered the hall and was escorted by Sisters Gertrude, Provincial, and Michèle, nurse and provincial elect, to her throne-like chair positioned under a diadem of balloons spelling out 100.
The greeting/hug line stretched across the hall as Sister flashed her winning smile and gently responded to a multitude of greetings.
A lovely and bountiful buffet style lunch followed the singing of Happy Birthday and the cutting of the personalized with photo traditional cake.
The celebration would not have been complete without the inclusion of Sister's favorite "Chicken Dance" to enhance fun and digestion. It was hard to tell who was having more fun: Sister or the guests.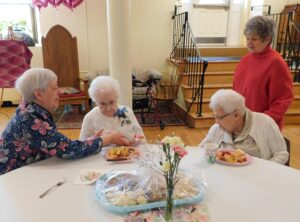 In addition to individual gifts offered to the birthday lady, cash donations from invited guests were collected to send to St. Jude's Hospital in Sister's name.
A lovely poetic reading on the virtues of a long life was shared by Sr. Michèle. Our guest of honor was also presented a beautifully framed Papal Blessing and a precious signature quilt that each guest was invited to sign, a real treasure and souvenir of this auspicious occasion.
While no one actually wanted to see this positively charged festivity come to an end, the hour grew late, many had to travel good distances and we are told that 100 year olds do get tired after long days of celebration. So it was that one and all returned home with joy and gratitude in their hearts for having had the privilege of sharing in such an important event through which once again God's beauty and grace shone forth thanks to our centenarian Sr. Fernande.
Anyone wishing to send Sister a birthday card may do so by addressing the card to Sr. Fernande Laliberté St. Joseph Living Center 14 Club Road Windham, CT 06280.