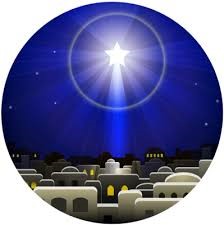 Darkness prevailed in a time of strife, of poverty, of dissension, of fear. The mighty Romans controlled the Mediterranean world; the Jewish people, the chosen people of God were under Roman domination. Decade after decade, year after year, century upon century the Jewish people yearned for their God to send them the promised Savior, but even though they continued to hope, the promise had not yet been fulfilled.
And then on a dark winter night, a brilliant star rose high in the sky and shone over the town   of Bethlehem. As people gazed upon this unusual star, they wondered: "What is this star?" What does  it mean?" Of what is it a sign?" This new star was important. As occurs at any time when there is something unusual, some who viewed the star simply ignored it and went about their business. Some wondered, were concerned, but did nothing about it. Others, however, saw the star, felt its call and responded. Shepherds in Bethlehem's pastures, heard angels singing and followed the Star to where a new born baby rested. They fell upon their knees, praised and worshiped this God come to earth. Astronomers from Persia, taken by this unusual Star, set out on a long arduous journey to follow it. The Star shone brightly in the sky, ever leading the men  on their way to worship this special child.
What about the Star today?  Does it still burn brightly in these difficult times in our own lives? Do you see it and feel it beckoning to you? Take time this Christmas to ponder over what the Star means to you. To where is it calling you? In our 21st century of chaos, violence, distrust, lack of justice and civility go into your quiet space and sit there with God. Ponder upon the Star, and follow it to reach the fulfillment of God's redeeming promise in your life.
O Star of wonder,
Star of night
Star with royal beauty bright
Westward leading, still proceeding,
Guide us to thy perfect light. (We Three Kings)