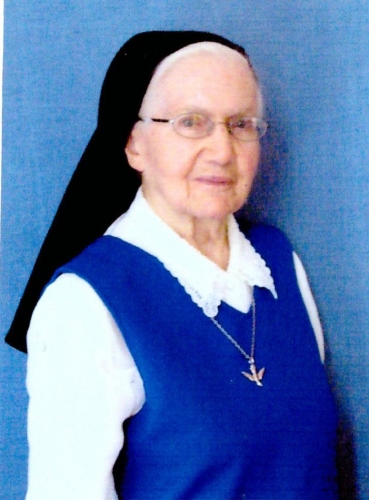 Sr. Marie Ruth Page, DHS, 103, a member of the Daughters of the Holy Spirit died on Saturday December 28, 2019 at Saint Joseph Living Center in Windham, CT.
Born on April 3, 1916 in Chicopee, MA, Marie Ruth Exilda Page she was the daughter of the late Edouard and Amanda (Gelinas) Page. Sr. Marie Ruth entered religious life in Putnam, CT in 1934 and made her religious profession at the Motherhouse in St. Brieuc, France on September 2, 1937.  She was then known as Sr. Edouard de la Croix.
Sr. Marie Ruth was a teacher for over 50 years having taught at St. Mary's School, Jewett City, CT, St. Cecilia School, Leominster, MA, St. Brendan School, New Haven, CT and Assumption School, Chicopee, MA. Over 30 of those years were teaching the 8th grade. In her retirement years, she served as sacristan at St. Joseph Guest House, New Haven and did CCD work at St. Cecilia's Parish in Leominster, MA and Assumption Parish, Chicopee, MA. In 2004, she moved to the Holy Spirit Provincial House and was admitted to the Healthcare Facility in 2012. She was one of the first sisters to form the new community at St. Joseph Living Center in 2016.
She is survived by the Daughters of the Holy Spirit spiritual family – her sisters in community, the Consecrated Seculars and the Associates as well as 2 nieces, 1 nephew and many grand and great grand nieces and nephews. She was predeceased by her 2 brothers David Page and Raoul Page as well as her 4 sisters Gertrude Belanger, Rose Warwick, Florence Sampson and Viola Jerreld.
Calling hours will be on Thursday January 2, 2020 from 9:00 – 11:00 AM at St Joseph Church, 99 Jackson Street, Willimantic, CT with a prayer service at 10:00 AM.  A Mass of Christian Burial will be held at 11:00 AM followed by burial in St. Mary Cemetery in Putnam at 2:30 PM.
In lieu of flowers donations may be made to DHS Retirement Fund, P. O. Box 497, Putnam, CT 06260.  The Gilman Funeral Home, 104 Church St., Putnam, CT is in charge of arrangements.
Rest in in peace, Marie Ruth and in the everlasting love of your God.