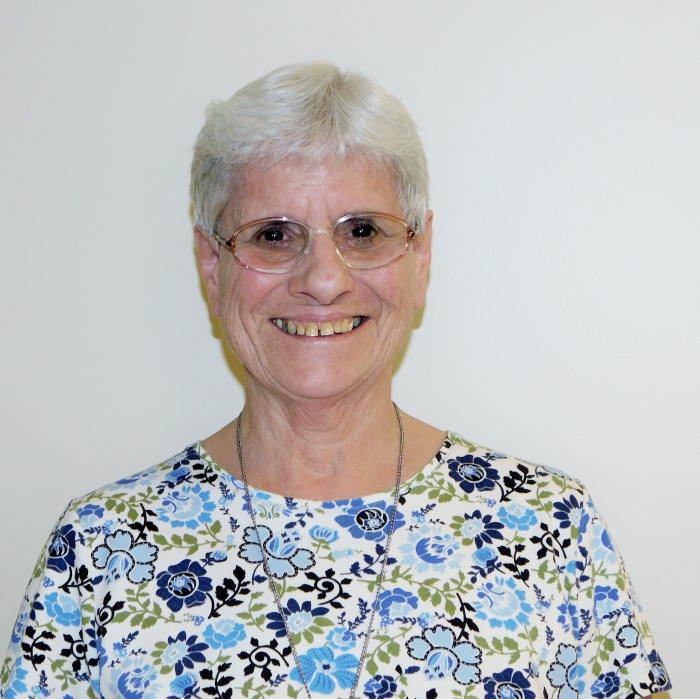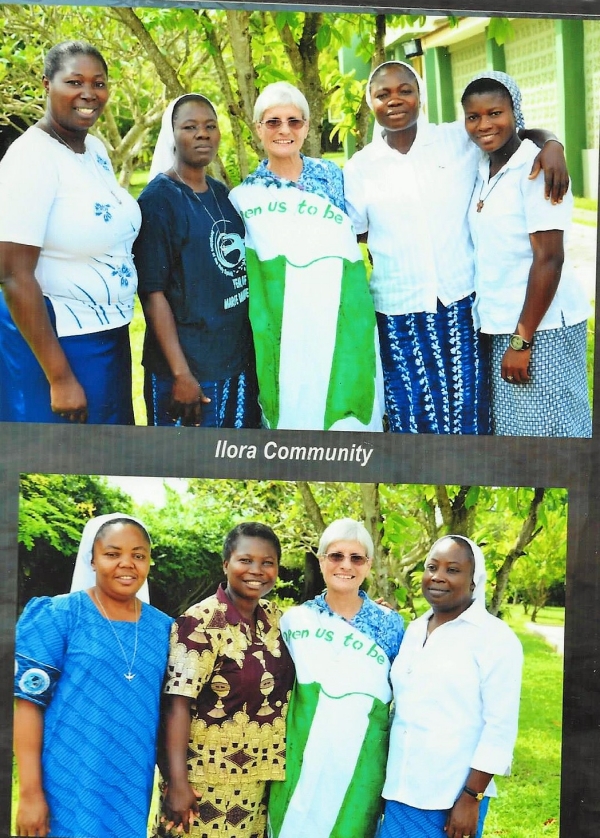 The charism of the Daughters of the Holy Spirit that motivates and guides everything a religious Congregation is and does, finds its origin in chapter 25 of the Gospel of St. Matthew that explains so concretely how real Love is lived.  Thus, as a way of celebrating Catholic Sisters' Week, we choose to highlight how the ministry of our Sister Jeannine LÉGÈRE is an example of the DHS charism at work impacting many lives in the USA and abroad.
Jeannine, a native of Hartford, CT attended elementary school with the Daughters of the Holy Spirit at St. Anne's School. She entered the Congregation in 1963 and made her first profession in 1966. She earned her first college credits at Diocesan Sisters College in Woodstock, CT but was missioned to St. Clare community in Newport, RI where she also attended Salve Regina University and earned her BSN degree. Degree in hand she was assigned to the Provincial House in Putnam to help with the large community in residence. But her stay in Putnam was shortened when she was missioned again to St. Clare's in Newport to practice her nursing skills at the home for the elderly. Jeannine was called back to Putnam to assist Sister Imelda Michaud, RN, to establish a "preventive health care program" for the DHS Province. At about the same time, Sr. Légère was asked to attend to our elderly and ill Sisters in residence at the Villa St. Joseph, a stone's throw from the Provincial House.
At that time there were several Sisters teaching in the Bridgeport, CT region, and Jeannine was asked to move to that area (radical availability for mission) where she soon began work as a Visiting Nurse and had the opportunity to spend time with the elderly and the ill in their own homes, tending to their physical and spiritual needs. She spent 7 years in this ministry in what was then called the "black inner city", an opportunity she would learn to value in the very near future when she was missioned to Nigeria, Africa.
Happily thinking she would have the chance to practice nursing on the African continent, she was quick to note that things were different. In Nigeria nursing was to a large extent the equivalent of being a doctor. Nurses were expected to function as doctors, and Jeannine did not feel comfortable nor prepared to jump into that role. However, it turns out this was again providential as she realized there was need of a DHS to accept the responsibility for the formation of young Nigerian religious of temporary vows. Jeannine stepped into this position bringing to it a deep personal spiritual background, love and understanding of the charism and her experience in responding to the different gifts and calls of the Spirit.
During her 18 years in Nigeria, Jeannine was also involved in retreat work and the opening of a DHS Retreat Center with the Jesuits. Sr. Légère also dedicated much time and energy to preparing the young Nigerian Sisters to carry on the work she had begun. One of her comments upon her return to the States was that "the transition went smoothly because they were well prepared to carry on the DHS mission in their own cultural way". In a tribute to Jeannine Sr Monica ANYI, vice-provincial of Nigeria, said: "The work you did was your legacy".
Sr. Jeannine is now back in the USA and involved in a parish community with a mixed population; she is also assisting with the care of our Sisters in community at St. Joseph Living Center in Windham, CT. She also spends time coordinating activities with other nursing facilities in the vicinity. She sees this ministry as service to the Church, to the Sisters and to the community at large through which she can bring multiple and varied groups together in the same spirit.
Sister Jeannine very simply shares that through her various ministries and interaction with so many people her own life and growth have been positively impacted because she has had to learn to let go in many ways in order to be able to reach others.  Her greatest challenge has been to find her place in each situation and to be truly available to the Spirit.
As she looks back upon how she lived her and the DHS charism, Sister is grateful for many people and things but most specifically for the many and varied relationships into which she was invited and the trust gained through those relationships.  She is also most grateful to have come to the realization that one has received great gifts and is called to integrate them into the lives of others which helps us grow beyond ourselves in a global sense, so that all may grow and have abundant life.
For more information on Sr. Jeannine, her life and ministry please contact her at: legerjml@yahoo.com
Thank you, Jeannine, for sharing your story and making Catholic Sisters' Week so meaningful!