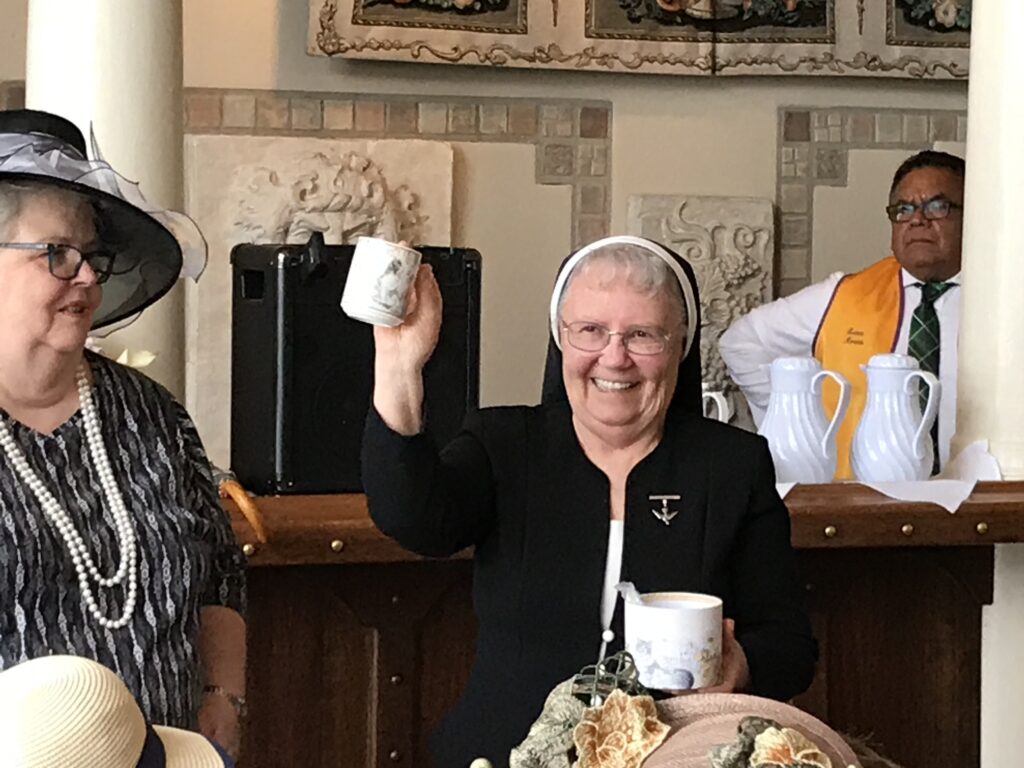 It is fitting and most appropriate that as we salute women religious through Catholic Sisters' Week celebration, we share with you the recent honor recently given to our Sr. Michael Henry Moulin, DHS by the Delta Lions Group. Please enjoy the verbatim text of the presentation, the couple accompanying photos of the special moment and the video of Sister's response.
We join in gigantic congratulations for Sister's gift of self to the Church community. What a tremendous witness to our DHS charism.
Comments may be shared directly with Sr. Michael at: lorrainecmoulin@gmail.com.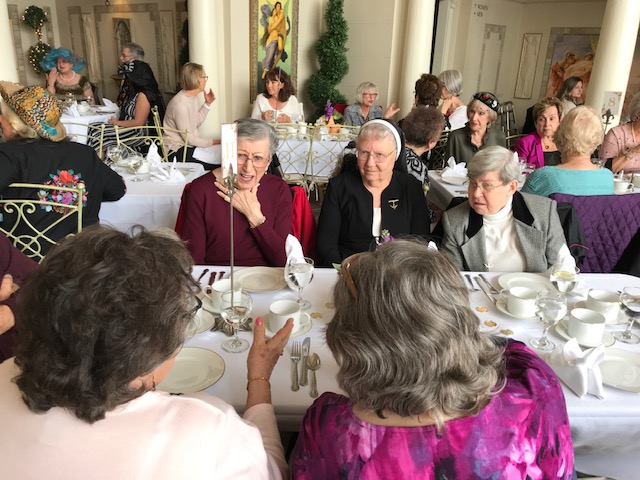 Sr. Michael Henry Moulin, DHS
Delta Lions Woman of the Year for 2020
Each year the Delta Lions selects a very deserving woman from our community, who demonstrates outstanding service and dedication, as our Woman of the Year.
This year we are very pleased to name Sr. Michael Henry Moulin as our Woman of the Year. Congratulations, Sister!
I am happy to share a little of her story with all of you.
Sister was born in Moosup CT, where she attended the local parish grammar school, All Hallows, through the 8th grade. Her high school years were spent at Putnam Catholic Academy, a Catholic high school for girls, where she was taught by the Daughters of the Holy Spirit, the religious congregation she would later join.
After graduating from high school, she trained with a local dentist as a dental hygienist. However, she soon acknowledged the call of the Lord to serve God and the Church in religious life. She returned to Putnam to enter the Daughters of the Holy Spirit, a congregation of teaching sisters. She earned her Bachelors degree and prepared to fulfill her vocation as a Religious Sister and a teacher.
Shortly after making final vows, this young sister who had never traveled out of the State of CT, made the cross-country trip to teach in California. Our Lady of Grace School in West Sacramento had been open for only a couple of years when Sister Michael joined the faculty. Except for a few years teaching in Davis and Fairfax, CA, Sister Michael remained at Our Lady of Grace School teaching and eventually serving as principal, for a total of 44 years.
Besides her duties as teacher and principal, she played the organ and piano at parish Masses and started a children's choir. In her summer "spare time" she managed to earn a Masters degree through courses at Dominican College in San Rafael. Sister Michael retired in 2012.
Needless to say, she taught more than 1 generation of West Sacramento children over those many years. When she celebrated her 80th birthday, the overflow crowd of alumni and parishioners at the gathering in the Our Lady of Grace School hall was testimony to how much she is appreciated and loved.
Don't think that retirement slowed this lady down! Moving down the River Road from West Sacramento, Sister Michael became acquainted with the parish of St. Joseph in Clarksburg, where she was quickly recruited to head up the children's faith formation program there and to join the music ministry, playing the piano for the 8 a.m. Sunday Masses. She has continued to join in the life of that parish, serving as spiritual director for the St. Joseph's Women's prayer group.
For many years, Sister Michael has been the spiritual director and mentor for the local group of lay men and women Associates of the Daughters of the Holy Spirit. Many other people have also benefited from her wisdom and spiritual direction.
Sister Michael continues to volunteer once a week at Our Lady of Grace School, giving assistance to the Kindergarten teacher. She also serves as spiritual director to the Women's Council of Our Lady of Grace Parish, providing beautiful prayer services for each monthly meeting.
Many grieving families of Our Lady of Grace Parish have called upon Sr. Michael to lead vigil services for deceased members of their families. Her empathy and compassion make this service of prayer and remembrance a time of hope and comfort.
Her hobbies include tending a vegetable garden, which sometimes provides bounty not only for her, but for a flock of turkeys! She is a voracious reader and also enjoys crocheting. Her crocheted items have been enjoyed as gifts for family and friends.
And so, we know, Sr. Michael that all of this attention is probably serving as a Lenten penance for you, but we want you to know how much you are loved and appreciated both in West Sacramento and here in the Delta for your tireless service and friendship.
Congratulations to you as Delta Lions Woman of the Year 2020.