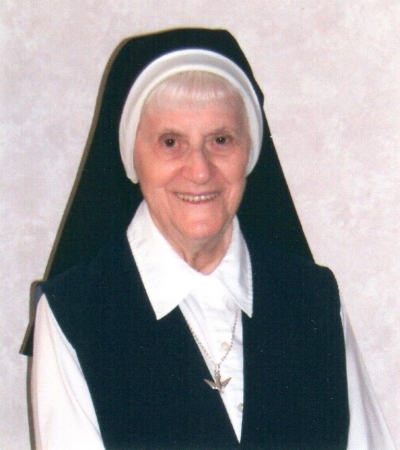 Sr. Blanche Thibault, DHS, 94, a member of the Daughters of the Holy Spirit died unexpectedly on Thursday March 26, 2020 at Saint Joseph Living Center in Windham, CT.
Born on June 17, 1925 in Fall River, MA, she was the daughter of Albert and Eva (Vigeant) Thibault. Sr. Blanche entered religious life in 1948 and made her religious profession on August 16, 1949 in Putnam, CT. She was then known as Sr. Albert de Ste. Anne.
Most of her years in ministry were in nurseries and day care centers in Fall River, Newport and Putnam. She loved the little children and was dedicated to them. In 1989, she moved to the Provincial House in Putnam, CT and was active in housekeeping there until she retired in 1993. In 2017, she was missioned to St. Joseph Community in Windham, CT.
She is survived by the Daughters of the Holy Spirit spiritual family – her sisters in community, the Consecrated Seculars and the Associates as well as her sisters Alice Mandeville and Florence Steele, both of Florida and Imelda Bernard of Ohio. She was predeceased by her brothers Armand and Oscar and her sisters Anita and Irene.
Because of restrictions imposed by the COVID-19, a private graveside service will be held on Monday, March 30th, and a memorial Mass will be celebrated at a later date.
Memorial donations may be made to the DHS Retirement Fund, P.O. Box 497, Putnam, CT 06260.
The Gilman Funeral Home, 104 Church St., Putnam, CT is in charge of arrangements.
For more information concerning Sr. Blanche, you may contact the provincial secretary at dhsprovsec@gmail.com.