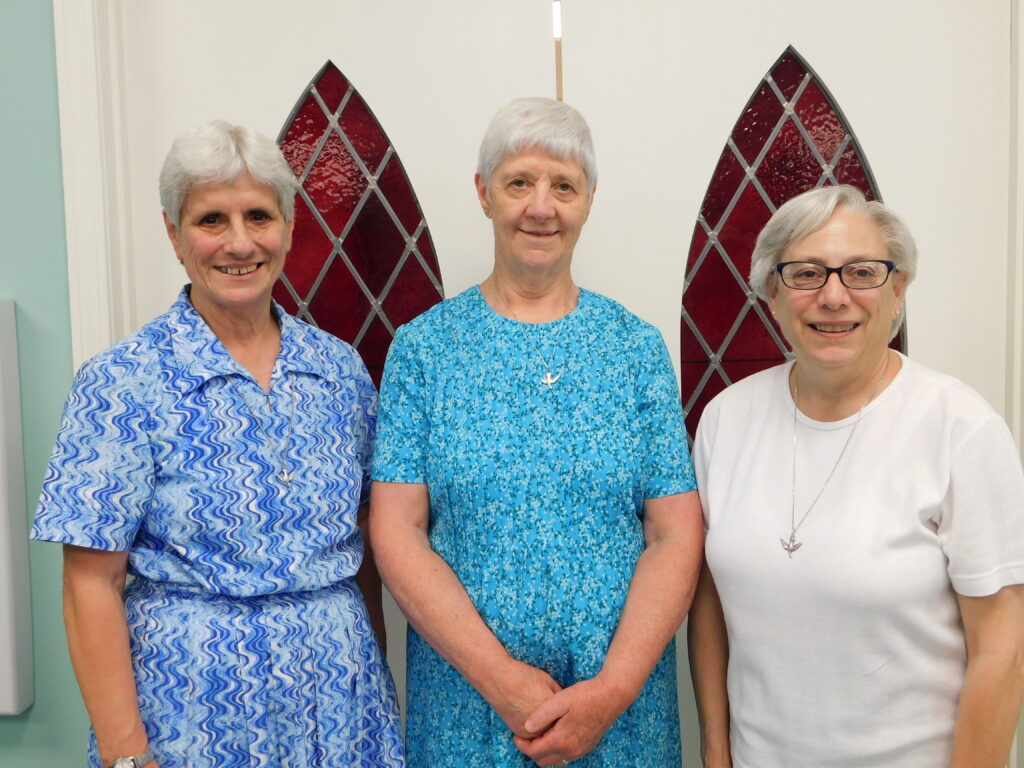 From left, Jeannine Legere, Gertrude Lanouette, Janet Lewis
The tropical heat and humidity of Saturday, July 11th did not discourage some 25 DHS Family members from attending the installation service of our new Provincial Team: Sisters Gertrude Lanouette, Jeannine Légère and Janet Lewis, as they begin their 3-year mandate.
The theme of Transformation and bringing Hope, introduced by the words of M.E Miro "Approach this new door with great confidence in your heart, for you have so much to offer.  Open each new door with trust, holding your dreams very near…knowing the world is waiting for the goodness and the love you carry within you", words that each one took to heart as a personal call and challenge at this notable event in the life of the Putnam Province.
The theme of the Emmaus journey/moment flowed through the service as those present joined in singing "Come journey with us, stay with us, make us one with you…."  The missioning and anointing of our new team was followed by a blessing as all attendees stood and extended their hands over the trio and prayed "May God's blessing be upon us all…May divine light lead us in the way of justice and love…May our lives be emboldened by the Spirit living within us…May all that we do begin and end in you so that all may be done for your glory.  Amen."
The installation ceremony concluded with the singing of Monica Brown's composition "Celebrate" as together the assembly enthusiastically proclaimed that it is indeed the Spirit who calls us into light and new life, and gifts us to share and love together.
It is only natural that the blessing celebration continued with the bestowing of tokens of appreciation to the former Provincial Team, Sisters Jacqueline Robillard and Marian St. Marie, for their 6 years of service.  Homemade goodies and much welcomed cold beverages accentuated the socialization and  the expression of congratulations and thanks to one and all while respecting the protocols of social distancing and the wearing of masks imposed by Covid-19.
CONGRATULATIONS, THANKS AND MULTIPLE BLESSINGS TO OUR NEW PROVINCIAL TEAM!
Anyone wishing to share a message with these Sisters may email them as follows:
Sr. Gertrude Lanouette:  Team Leader, trudidhs@gmail.com
Sr. Jeannine  legerjml@yahoo.com
Sr. Janet  jmlewisdhs@gmail.com