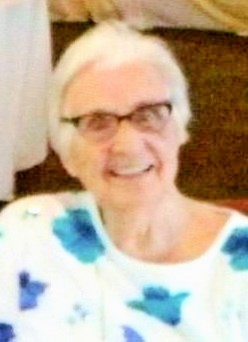 THÉRÈSE CÉCILE COTÉ, Associate member of the Daughters of the Holy Spirit US Province since 1998, entered eternal life on July 17, 2020.
She was born in Pittsfield, MA on October 2, 1927 and lived her entire life in her home town in the family homestead.
Thérèse was highly educated with earned Bachelor's and Master's degrees in nursing and human technology. She was employed by the General Electric Company for 38 years and retired as Nursing Supervisor.
One of the greatest joys of her life was caring for her brother who had Downs Syndrome. Her techniques and winning ways brought sunshine into his life and energy all around.
Ms. Coté had simple yet cultivated tastes especially when it came to ice cream. She was the expert, knew every possible flavor and was willing to taste test the frozen wonder at any time and any place. She also loved music and participated in barbershop competitions with her siblings and friend. Thérèse dedicated her life to helping those in need and offered her services to the Red Cross Disaster Team lending her expertise in mental health to individuals and families traumatized by unexpected negative events. It was this desire to reach out to others that attracted her to the DHS Associate Branch, and she pronounced her Covenant to reinforce her efforts to live the DHS charism more deeply.
Thérèse's thoroughly enjoyed helping out in her parishes where she served as parish council president, member of St. Ann's Guild and of the Rosary Society.  She had many gifts and was always thrilled to share them at all levels. Her smile, her words of encouragement and her hands-on assistance are missed already by all who knew her and interacted with her throughout these many years.
Welcome home, Thérèse, and may the choir of angels and your sister Julie, also an Associate, greet you in harmonious tones that will never fade. Thank you for your love and service. You live on in our hearts and spirit.
Print This Post