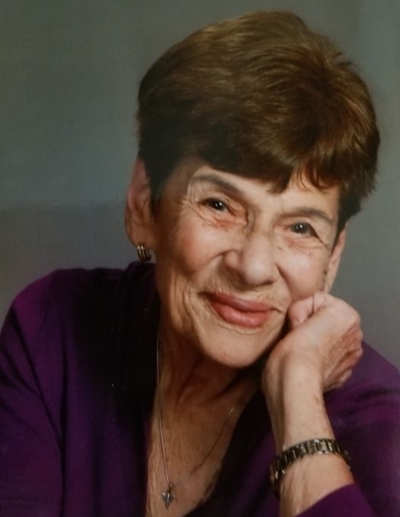 Frances Mary Monick, Associate member of the Daughters of the Holy Spirit since 1990, quietly passed into eternal life on August 16, 2021 at the age of 93.
Fran was a native of Greenwich, CT and grew up, attended local schools and married her beloved husband Dominick, in 1949 in her home town.  They had 6 children.
Frances worked in the health field and served at various sites including  Greenwich Hospital and Stamford Hospital.  She also volunteerd her talents at  Stamford Rehab Center where she essentially worked with ailing children.
Fran eventually moved to Woodstock, CT and was employed at Day Kimball Hospital and was very active in her parish of Most Holy Trinity where she taught Religion classes to high school students.  Her closeness to the headquarters of the DHS in Putnam made it easier for her to become more actively involved with the Associate program which she enjoyed immensely.
In 2000 Monick retired to Cape Cod and continued her involvement in her local parish there and she also became involved in hospice and in helping out with the St. Vincent De Paul Society. She assisted with these programs until her own health began to fail.
A memorial service and mass were held to celebrate Fran's life on October 7, 2021 at St. Mary's Church in Greenwich. Memorial donations may be made to the DHS Retirement Fund and sent to the Development Office PO Box 497 Putnam, CT 06260  or to St. Jude's Children's Hospital.
Fran had a great sense of others and a complementary sense of humor that made relating to her at all levels comfortable. She never hesitated to use her time and gifts for others however she could. Her actions proved that she wanted the best for anyone who touched her life. She was particularly concerned about helping children and the helpless. Frances served well and generously and is remembered fondly and warmly.
Thank you, Fran, for your gift of self in love and in service.