Sr. Catherine Sottak, DHS
August 1, 1929 – February 7, 2023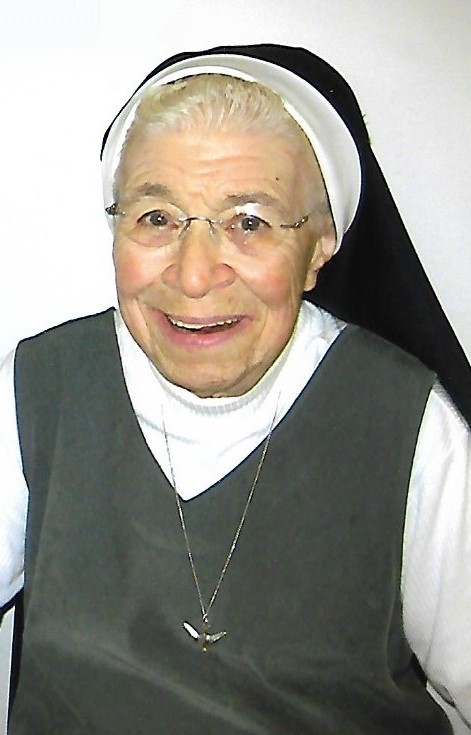 Sr. Catherine Theresa Sottak, DHS, age 93, a member of the Daughters of the Holy Spirit, died on Tuesday February 7, 2023 at St Joseph Living Center, Windham, CT.
Born on August 1, 1929 in Brooklyn, NY, the daughter of the late Edward Sottak and Catherine (Maloney) Sottak, she grew up in New Bedford, MA. Sr. Catherine entered religious life in 1945 and made her religious profession at the Provincial House, Putnam, CT on August 16, 1949.  She was then known as Sr. Catherine Thérèse.  She received a B.A. in education from Annhurst College, South Woodstock, CT and later an LPN Certificate from Windham County Technical School in Willimantic, CT.
From 1949 to 1976, Sr. Catherine taught in the following schools:  All Hallows, Moosup, CT; St. Mary's, Putnam, CT, St. Joseph, Burlington, VT and St. Anthony, Bridgeport, CT including  serving as principal of St. Martin de Porres School in Gadsden, AL for 15 years.
After receiving her LPN certificate in 1978 she worked in migrant ministry in Princess Ann, MD.  Later, she continued nursing at St. Joseph Villa and the Provincial House, both in Putnam, CT.  Sr. Catherine had long felt a call to become a missionary and in 1983 she became a missionary-nurse in a pre-natal clinic in Ile Ife, Nigeria. When Sr. Catherine returned to the United States she continued nursing at the Provincial House in Putnam, CT. In1986 Sr. Catherine returned to St. Martin de Porres in Gadsden, AL as pastoral assistant where she was involved in ministry to the poor.  In 1988 she went to Jeremie, Haiti as a missionary for a brief time.  From 1990 to 2005 Sr. Catherine worked with the Visiting Nurses' Association in Waterbury, CT. She then returned to the Provincial House where she served as sacristan. Sr. Catherine became part of St. Joseph Community at St. Joseph Living Center in 2016.
Calling hours will be on Monday February 13, 2023 at 10:00 AM at Corpus Christi Parish / St. Joseph Church, 99 Jackson St., Willimantic, CT with a prayer service at 10:15 AM. A Mass of Christian burial will be held at 11:00 AM followed by burial in St. Mary Cemetery in Putnam at 2:30 PM.
Memorial gifts may be made to DHS Retirement Fund, P.O. Box 497, Putnam, CT 06260.
Throughout her life Sister was many things to many people always willing to use the gifts her God had given her for the happiness and welfare of others.  We thank you, Catherine, and ask you to continue to be with us as we reach out to others as well.