Sr. Claudette Huot, DHS
January 3, 1934 – March 7, 2023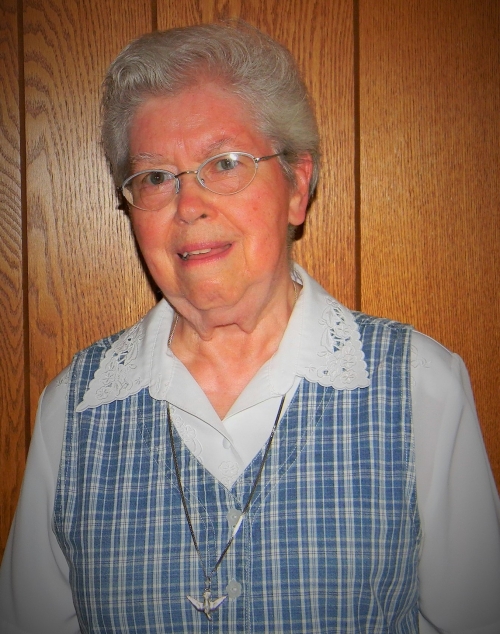 Sr. Claudette Huot, DHS (89), began her new life in her Lord on Tuesday, March 7, 2023.
Born Marie Pauline Claudette Huot in Waterbury, CT on January 3, 1934 she was the only child of Roger and Hélène (Vaillancourt) Huot. She entered religious life at Holy Spirit Provincial House in Putnam, CT in September of 1951 and made her religious profession on August 18, 1953 there. She was then known as Sr. Hélène Roger.
She held a B.A. in Education from Diocesan Sisters' College in Putnam, CT and an M.A. in Business Education from the Catholic University of America in Washington, D.C. In 1956 Sr. Claudette was one of 7 sisters who opened St. Bernard High School for girls in New London, CT within the newly formed Diocese of Norwich. In 1966 she was assigned to Holy Ghost Academy in Tupper Lake, NY, a small co-ed high school. When that school closed its doors in June of 1967, she returned to St. Bernard's, which was then co-ed. Sr. Claudette served there until 1976 at which time she took a nursing course in Waterbury and went to work at St. Mary Hospital as a dialysis nurse for the next 8 years. In 1985 she went to work as a staff nurse at Roncalli Woodland Rest Home until 1998 when she then became a staff nurse in doctors' offices at Family Care under the umbrella of Waterbury Hospital. In 2002 Sr. Claudette was appointed Provincial Secretary and served in that capacity until 2018. She joined the community at St. Joseph Living Center in 2020.
Sr. Claudette is survived by the Daughters of the Holy Spirit spiritual family – her Sisters in community, the Consecrated Seculars and the Associates. She is also survived by several cousins in Virginia and Connecticut as well as in Canada.
Calling hours will be on Saturday March 11, 2023 at 10:00 AM at Corpus Christi Parish / St. Joseph Church, 99 Jackson St., Willimantic, CT with a prayer service at 10:15 AM. A Mass of Christian burial will be held at 11:00 AM followed by burial in St. Mary Cemetery in Putnam at 2:30 PM.
In lieu of flowers donations may be made to DHS Retirement Fund, P.O. Box 497, Putnam, CT 06260. The Gilman Funeral Home, 104 Church St., Putnam, CT is in charge of arrangements.