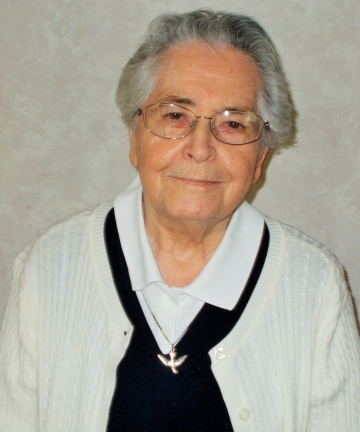 Sr. Giselle Brouillard
November 20, 1932 – May 6, 2023
Sr. Giselle Brouillard, 90, a member of the Daughters of the Holy Spirit, died on May 6, 2023 at St. Joseph Living Center in Windham, CT.
Born Giselle Béatrice Brouillard in Waterbury, CT on November 20, 1932, the oldest child of the late Antonio and Marie Jeanne Descoteaux, she entered religious life in Putnam, CT in 1949 and made her religious profession on August 23, 1952 at the Motherhouse in St. Brieuc, France.  She was then known as Sr. Jeanne Antoine.
She earned a B.A. in Education at Diocesan Sisters' College and was a teacher of elementary education from 1953 until 1987. Her teaching assignments included St. Francis School, South Fitchburg, MA; St. John School, Plainfield, CT and Holy Family School in Fairfield, CT as well as St. Joseph School, Burlington VT. In 1971, Sr. Giselle moved to Anniston, AL and taught at All Saints School before beginning home health care on the Eastern Shore of Virginia. In 1989 she completed her studies and became a Certified Geriatric Nursing Assistant and served as a Home Health Aide through an agency in Waterbury, CT until her retirement in 2004. She was part of the Provincial House community from 2007 until she joined the community at St. Joseph Living Center in 2016. A gentle and hospitable soul, Sr. Giselle was the creator of many inspired quilts and other fabric art.
Sr. Giselle is survived by the Daughters of the Holy Spirit spiritual family – her Sisters in community, the Consecrated Seculars and the Associates. She is also survived by her brothers Gerald and Guy Brouillard, sister Aurise Brouillard and many nieces and nephews. She was predeceased by her brothers John and Marcel Brouillard and her sisters Therese Vaillancourt and Lorraine Butler.
Calling hours will be on Tuesday May 16, 2023 at 10:00 AM at Corpus Christi Parish/St. Joseph Church, 99 Jackson St., Willimantic, CT with a prayer service at 10:15 AM. A Mass of Christian burial will be held at 11:00 AM followed by burial in St. Mary Cemetery, 218 Providence St., Putnam, CT at 2:30 PM.
In lieu of flowers, donations may be made to DHS Retirement Fund, P.O. Box 497, Putnam, CT 06260. The Gilman Valade Funeral Home, 104 Church St., Putnam, CT is in charge of arrangements.