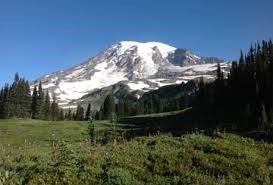 Thanksgiving is upon us. It is a day of gratitude, a day of showing our gratitude for the richness of God's love. This divine love is constantly filling our lives with good gifts.
This year the calendar has brought the observances of Thanksgiving and of the first Sunday of Advent very close together. This provides us with the opportunity of seeing a link between the two.
During Advent, the gratitude of Thanksgiving moves us into the waiting of Advent, into a time to "prepare the way of the Lord". The reading from Isaiah from the liturgy of the first Sunday of Advent invites us to prepare for the coming of the Savior by climbing the mountain of the Lord.
In days to come, the mountain of the Lord's house shall be established as
the highest mountain and raised above the hills.
Come, let us climb the Lord's mountain to the house of the God of Jacob
that he may instruct us in his ways, and we may walk in his paths."  (Isaiah 2:1-3)
In order to be able to scale this mountain to its peak, certain attitudes are needed. First of all we have to be determined to climb this mountain without ever giving up regardless of the difficulties. As we climb upward, God is instructing each if us "in his ways" so that we may walk in God's paths. The path up the mountain calls us to pay heed, to listen to the voice of our Trinitarian God, this voice which calls us upward. By this call God reveals great love and gifts for us, reveals what he wants of us. If we remain faithful to this climb, we will eventually reach the peak. Once we are at the top of God's mountain, our hearts will be open and ready to receive the "Word made flesh," filled with Christmas joy.
Marian St. Marie, DHS