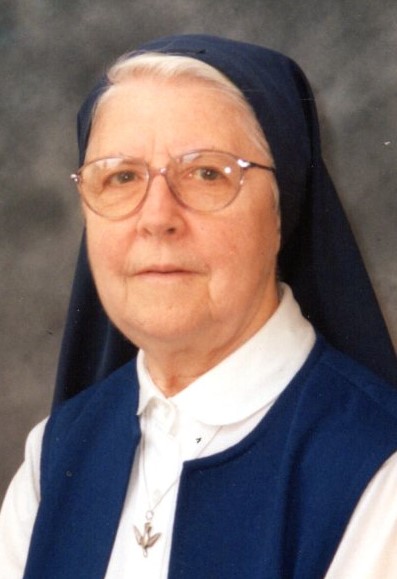 As quietly and as serenely as she had lived, Sister Marie Anita responded to her Lord's call to enter new life on January 31, 2021.
Anita Marie was born to Philippe and Aurelie Leger in Cocagne, New Brunswick, Canada on October 8, 1927. The young girl attended Catholic Schools in New Brunswick before entering the Congregation of the Daughters of the Holy Spirit in 1957.  She spent her formation period in Putnam at the Provincial House and professed her first vows on July 2, 1959.
Sister immediately put her culinary skills to work at the service of the Province in Fairfield, CT and at St. Joseph Guest House in New Haven, CT. She also ministered in domestic services at the Villa St. Joseph, a former convalescent home for the Sisters in Putnam, CT. From the Villa Marie Anita moved to the Provincial House where she shared her multitude of talents with the Sisters in residence. She continued to do this even after her official retirement in 2010 until she moved to St. Joseph Living Center in Windham in 2016 as a member of the new DHS community there.
Sister Marie Anita was known for her mild manner, her warm disposition and her prayerful dedication. She enjoyed company and would always flash a winning smile when someone brought her a bag of spice drops. Unfortunately, Marie Anita's frail condition could not fight off the effects of Covid 19, and she succumbed from its complications.
Sister was honored at a prayer service and mass at St. Mary Church in Willimantic, CT and she is laid to rest at St. Mary of the Visitation Cemetery in Putnam in the plot reserved for the DHS. Memorial messages and gifts may be made to the DHS Retirement Fund and sent to PO BOX 497 Putnam, CT 06260.
Sister Marie, your kindness and gentleness will remain with us always. Rest in love and peace.