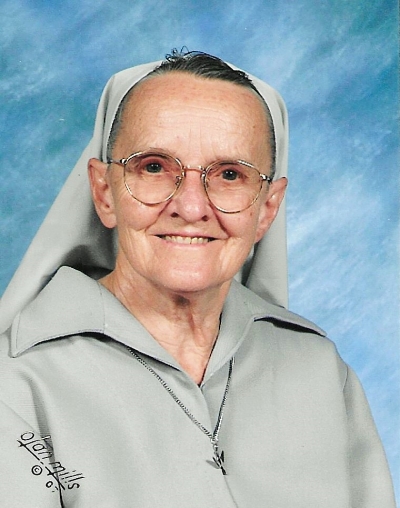 June 15, 1927 – March 19, 2022
Sr. Cécile Cusson, (94), a member of the Daughters of the Holy Spirit, died on Saturday, March 19, 2022 at St. Joseph Living Center in Windham, CT.
Cécile Germaine Cussson was born in Putnam, CT, the daughter of Major and Ida (Beaudouin) Cusson. She entered religious life in 1943 at the Holy Spirit Provincial House in Putnam and made her religious profession there in 1947 and took the name of Sr. Cécile de l'Eucharistie.
In 1953 Sr. Cécile studied at Holy Ghost Hospital in Cambridge, MA and earned an LPN diploma in October of 1955. Her dream of becoming a missionary in Africa was realized when she was missioned to the Republic of Cameroon where she served as a nurse in several DHS missions for the next 46 years. Her translation of prayers and hymns in 1964 represented the first attempt to put the Mundang dialect into written form. In Kaélé, Sr. Cecile established a rehabilitation center for victims of polio. With crutches and braces made of any available material along with patience and love, she was able to straighten limbs and teach young children to walk again, earning her the name "Mother of the Twisted Limbs". Her success m ade her known internationally and she was sought out to speak at several international symposiums.
Sr. Cécile returned to the United States in January of 2001 and in May of that year she was missioned to Selma, Alabama and worked as a pharmacy assistant and private tutor. She retired in 2016 and returned to the Provincial House in Putnam where she remained until she moved to St. Joseph Living Center in Windham in 2019.
She is survived by the Daughters of the Holy Spirit spiritual family – her Sisters in community, the Consecrated Seculars and the Associates. She is also survived by her brothers Robert "Chief" Cusson of CT and Theodore Cusson of NH as well as by many nieces and nephews.
Calling hours will be on Saturday, March 26, 2022 at 10:00 AM at St. Joseph Church, 99 Jackson St., Willimantic, CT with a prayer service at 10:15 AM. and a Mass of Christian Burial at 11:00 AM followed by interment in St. Mary Cemetery in Putnam at 2:00 PM. Masks are required at the church.
In lieu of flowers donations may be made to DHS Retirement Fund, P.O. Box 497, Putnam, CT 06260.
Cécile, you brought the healing of your God to many, rest now in the peace of that same God.