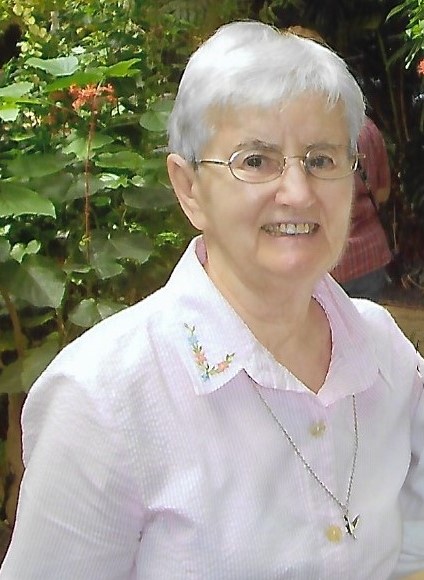 Sr. Irene Fortier, DHS
June 14, 1933 – June 9, 2023
Sr. Irene Fortier, 89, a member of the Daughters of the Holy Spirit died on Friday June 9, 2023 at St. Joseph Living Center in Windham, CT.
Born Marie Alda Irene Fortier in Waterbury, CT on June 14, 1933, she was one of fourteen children of Arthur and Regina (Berger) Fortier. She entered religious life in Putnam at the Holy Spirit Provincial House on September 5, 1951 and made her religious profession there on August 18, 1953. She was then known as Sr. Albert Rita. Sr. Irene had just celebrated her 70th Jubilee as a Daughter of the Holy Spirit.
She held a B.A. in Education from the Diocesan Sisters' College and an M.A. in Education from the Catholic University of America in Washington, D.C.
For 18 years she taught in schools staffed by the Daughters of the Holy Spirit in CT, CA and MA. She served as Director of Religious Education in various parishes in MA and CT. From 1978-1988 Sr. Irene was Associate Retreat Director and the first woman to serve in that capacity at the Holy Family Retreat House in West Hartford under the auspices of the Passionist Fathers. Following that, she was Pastoral Associate at Ascension Parish in Worcester, MA and St. Peter's Parish in Elizabethtown, PA. Returning to Connecticut, Sr. Irene served in various capacities in the Archdiocese of Hartford—Instructor in Marriage Tribunal, Archivist, Director of the Office for Religious and Co-director of the Haitian Ministry. In 2001 she became the Archivist for the US Province of the Daughters of the Holy Spirit. At that time, she also assumed the responsibility for the Jubilee Choir and served on a number of Consultative Committees. Retiring in 2015, she joined the community at St Joseph Living Center in 2016.
Calling hours will be on Tuesday June 20, 2023 at 10:00 AM at Corpus Christi Parish/St. Joseph Church, 99 Jackson St., Willimantic, CT with a prayer service at 10:15 AM. A Mass of Christian burial will be held at 11:00 AM followed by burial in St. Mary Cemetery, Providence St., Putnam, CT at 2:30 PM.
In lieu of flowers, memorial donations may be made to DHS Retirement Fund, P.O. Box 497, Putnam, CT 06260.
MAY YOU ENJOY LEADING THE CHOIRS OF ANGELS AS YOU PRAISE YOUR GOD FOREVER AND EVER.